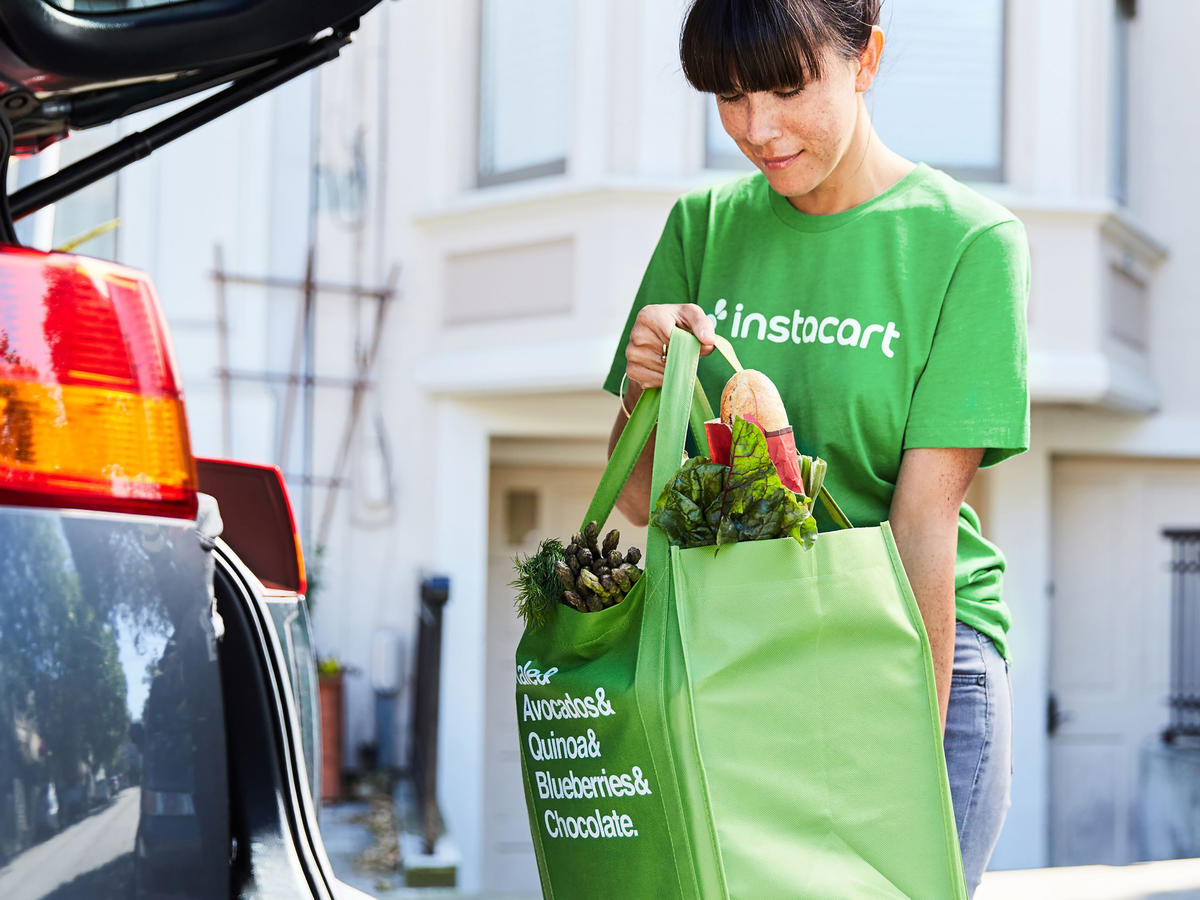 TIPS FOR GROCERY DELIVERY AT DISNEY
Having groceries in your room has always had great benefits, but with grocery delivery becoming increasingly popular over the last few years, it is now easier than ever to have everything you need to ensure your trip is full of magic. The days of reserving space in your suitcase for extra snacks and diapers are over. You can now have everything waiting for you at your resort when you arrive. So, no more grocery shopping hassle. Start enjoying your vacation right away worry-free.
Why Groceries?
The main reason to have groceries sent to your resort is to save money on food during your stay. This is most relevant to large groups and families with tinny snackers. Cutting out one meal a day in the parks with a large group could save you $100+ a day. And if you are a family with kids, snacks are a must. It's more cost-efficient to bring your own snacks. Not to mention the kids will be happy to have a familiar snack, and you will be happy to have snacks on hand.
I have done trips where we did one table service meal a day, and we quickly learned that was too much for our family. Even though we love a good table service experience (especially character dining), it's not the go-to for every meal. Of course, you always have the option to mobile order or stop by a quick-service restaurant. Nowadays, Disney has at least one excellent option in each park for a reliable service or counter meal. So, it really comes down to the cost.
Let's break it down:
On average, for one person, you will spend about $15 for a quick service meal, $60 for a table service meal, and $8 for a snack. Two quick-service meals, one sit-down restaurant, and a snack quickly add up to nearly $100.You're looking at roughly $100 per person per day to eat every meal at the park. $400 a day for a family of four during a four-day park visit will add $1,600 to your trip.
I would rather cut costs in this area and splurge on our room or a family experience. And that is why we have groceries delivered while we are at Disney. Don't get me wrong. I am all about having breakfast with Chef Mickey or dinner with Cinderella, and many fun treats along the way. What works for us is a balance of yummy park food and yummy "homemade" food.
Consider Your Room
Each resort room will have different amenities. Generally speaking, standard rooms will have a mini fridge, suites will have a kitchenette, and villas and cabins will have full kitchens. This varies depending on the resort you are staying at. Some resorts even have outdoor grill areas.
No matter the resort, you will always have options to take on meals and snacks to some extent. You can do a variation of breakfast, lunch, dinner, and snacks. I'll give you some of our favorites below as well as my customizable grocery delivery checklist.
Breakfast
We are early risers and all about the rope drop. So, starting the day with a quick grab-and-go breakfast is a priority for us. A good breakfast bar is what fuels us through a successful rope drop. When staying in a room with a kitchen or kitchenette, we might get crazy and make a microwave sandwich or instant oats. Here are some of our favorite breakfast items to have delivered to the resort.
• Nature Valley Protein Bar
• Chobani Yogurt with Love Crunch Granola
• Belvita Breakfast Biscuits
• Kodiak Protein-Packed Power Waffle
• Great Value Fit Turkey Sausage Breakfast Sandwich


I also like to keep orange and apple juice in the fridge for the kids (including my manchild) to take with them or sip on while we are getting ready and packed up for the day.
Lunch/Dinner
Sandwiches. Need I say more?
Probably not, but I'll go on. Sandwiches will be the easiest thing to bring with you into the park. You can put nearly anything you want between two pieces of bread. If you feel like getting fancy, you can go with a salad. I've done pre-packaged salads before, and they did just fine. I have just found sandwiches to be more accessible. There are these great little Mickey-shaped sandwich cutters and sealers to add a little touch of magic for the littles in your life. If you are staying in a room with a kitchen or even a larger kitchenette, you can get a little more creative with your meals if you can take a park break for a bit. Here are some of our favorites for packed and resort/hotel lunches and dinners.
• Amazon "fresh" brand salad
• Boar's Head Ovengold Roasted Turkey Breast
• Great Value Natural No Stir Peanut Butter
• Smucker's Natural Strawberry Squeezable Spread
• Dino Buddies Gluten Free Chicken Nuggets
• Dave's Killer Bread Organic White Bread Done Right
• Innovasian Chicken Fried Rice


With a full kitchen, you can prepare your regular favorite meals, including tacos, spaghetti, and casseroles. We've even utilized the poolside grill to make hamburgers and hotdogs during a resort day.
Snacks
At the very least, bring snacks to the parks, ESPECIALLY if you are bringing toddlers or small children. I have a panic attack just thinking what it might be like if I started a Disney day empty-handed. Snacks=happy. We want the kids happy. To avoid the alternative, having a solid stash of snacks to get you through the day is a must for parents with littles. Prepackaged snacks in a gift shop are going to be your quickest snack stop and there is nothing you will find that isn't overpriced. It's a much better idea to stash up beforehand and plan ahead. There are some of our favorites.
• Veggie Straws
• Mickey Gold Fish
• That's It. Fruit Bars
• Hippeas Vegan White Cheddar
• Nature's Bakery Fig Bars, Raspberry
• Great Value Freeze Dried Fruit Crips, Variety Pack
• Motts No Sugar Added Apple Sauce


Fresh fruit is also a win for everyone in our family. We go for the easy stuff like bananas, grapes, berries, and prepared mixed fruit. The snacks and other foods we bring into the parks are on the healthy side so that when we do get the Dole Whip, Mickey Bars, and buckets full of popcorn, I can have less mom guilt about the sugar and junk.
Personal Goods
Have you ever packed your suitcase sparingly just so you have room for diapers? Or triple-layer plastic bags for your toiletries and still worry that they will explode all over your clothes during your entire flight? Have them delivered to your hotel along with your groceries. As a mom with two babies, this has been a lifesaver for space-hogging items as well as my personal needs. I'll list a few essentials that we include in our grocery delivery.
• Diapers/Pull-Ups
• Baby Wipes
• Shampoo & Conditioner
• Baby soap
• Sunscreen
• Hand Sanitizer
Miscellaneous Extras
You'll want to include things like paper plates, plasticware, baggies, and other essentials. From our experience, we have found that rooms and villas with kitchens have reusable plates, cups, and utensils. Rooms with kitchenettes have single-use plates and utensils. There are cups in the kitchenette. However, some come with single-use cups and mugs, while others come with reusable cups and mugs. All rooms with no kitchen or kitchenette will not include plates or utensils.
We bring our own refillable water bottles and sippy cups for the kids, so it's a good idea to have a small thing of dish soap to wash them. Laundry soap isn't a bad idea to have on hand, either. Villas with one or more bedrooms will have a washer and dryer in the room that will include a complimentary single-use box of laundry detergent. You can purchase more at an additional cost. There are also laundry facilities at most resorts. If you plan to take advantage of these facilities and amenities, you can easily add laundry detergent to your grocery delivery list.
Grocery Delivery Options
There are several options for grocery delivery around the Disney World resorts. There are two free options depending on if you are a subscriber to their service. The others will come at a fee. No matter the grocery delivery service you use, you will save money in the end.
The delivery drivers will leave the groceries at the bell service or reception desk. Most resorts will store the perishable items for you if you are unable to pick them up right away. However, I highly recommend booking a delivery window where you know you will be there at the report to grab your delivery as soon as it is delivered, just in case the resort refrigerators run out of space or your perishable grocery items are overlooked and left out. I will include a more detailed description of the three most popular delivery services used at Walt Disney World and their time windows below. There are more out there, but these are the most popular services available.
Amazon Prime Now:

This is one of the two free options. If you are an Amazon Prime member, there is no delivery fee to use this service for orders over $35. They offer selections from their Amazon Fresh offerings as well as the local Whole Foods grocery offerings. Even though it's Amazon, they have great fresh produce. However, their options are relatively limited for processed food.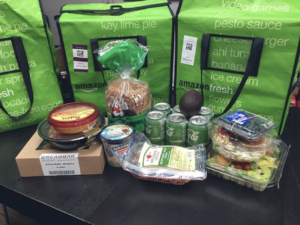 You can order up to two days out. There is an option for two-hour delivery if you can score a time slot before they book up. My best advice with this service is to schedule one day ahead when using this service. I have run into the issue that if you try to schedule two days ahead, some fresh items pop up as unavailable. Whichever day you choose, they schedule two-hour windows for delivery.
Walmart:

I believe this will be your grocery delivery option with the largest selection. Walmart has a reputation for having (almost) everything you could need at unbeatable prices. The only downside to Walmart these days is that I find it common for items to be out of stock. Unfortunately, that's just the world we live in right now.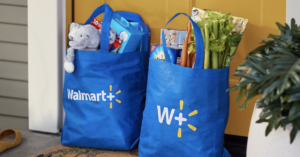 Walmart's delivery service can be "free" if you are a Walmart+ subscriber. For anyone unfamiliar, Walmart+ is a new subscription service with several benefits, including unlimited delivery on anything, even grocery delivery. You can schedule your delivery up to 5 days out with a one-hour window. There are "preferred" times reserved specifically for Walmart+ members. If you are not a member, the delivery fee will be $7.95-$9.95, depending on the time of day.
Garden Grocer:

As a service that has been around since before grocery delivery was mainstream, Garden Grocer earned a cult following amongst regular Disney goers and DVC members over the last 15 years. However, with cheaper and more convenient grocery delivery options becoming the everyday norm nationally, it is easy to see why they are not as popular as they used to be. With a hefty $15 delivery fee and a $40 minimum, Garden Grocers is an option with decent selection options, but not our first choice. Their items are not priced competitively, and their delivery windows are 4 hours. Also, take a look at their website for their list of resort hotels they will deliver to before starting an order with them. Not all Disney World resorts made the cut.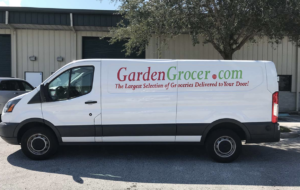 That being said, if you are a planner and will rest in peace knowing your grocery delivery is scheduled 120 days out from your trip, this is the way to go. We've never taken advantage of this unique accommodation, but I can see how heavy planners might appreciate the Garden Grocer delivery service over a subscription service.
Instacart:

If there are specialty items you need or a specialty store you prefer, I suggest Instacart. We've used Instacart service for Aldi, Costco, and even Walmart when we had specific items we needed in a hurry and couldn't get a delivery window through Walmart.com. To keep up with the times, they have also released a subscription service within the last year. Their subscription service waves their delivery charge For orders over $35. However, they do still charge a "service" fee.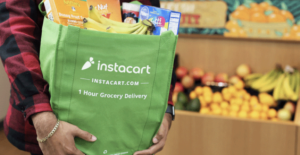 They have different time windows. Smaller time windows come at a cost, but larger ones could score you a small credit. As I mentioned, this service is great if you prefer a particular store like Publix or have a specific specialty item you need that you can't find at either Walmart or Amazon.
Is Grocery Delivery Worth It?
Depending on the size of your group, your budget, your hotel room, and your anticipated plans, grocery delivery may or may not be the best decision for you. You'll need to plan your meals ahead of time.
If you are not a meal-prepper or much of a planner, you can still manage to wing it around the park on a budget by sticking with quick-service restaurants and sharing meals and/or ordering kids' meals. Take all of these factors into consideration you will land on the best strategy for you.
Let me know what your Disney grocery list go-to's are and which delivery service you use. What kind of snacks and lunches do you like to bring to the parks?